Quick Review: Silverstone LC11
2006-01-16
I recently purchased the Silverstone LC11 for my HTPC. I had a $30 case before that did not look great, but did the job. I decided I wanted the HTPC to fit in with the rest of the stuff so I bought the LC11.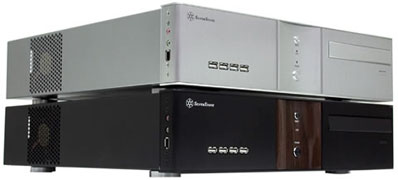 Pros:
Looks very nice. Fits in with theater components well.
Upside down design is pretty cool
For a case that's designed for HTPC, it's got a fair amount of space inside.
Cons:
Built-in fans are kinda loud
Not much room for a tall CPU cooler
With my motherboard, there is not much room for a wide CPU cooler (80mm or less)
Spring on the cd-rom door seems too tight. My dvd-rom won't open and close right in this case.
Even though I put more cons than pros, I really like this case. I just need to put a little more work into making it quieter. Oh yeah, I bought the silver. I might have gotten the black, but that fake wood looks really stupid.